Take Control of
Your Student
Loans Today
Receive a customized student loan plan using the principles of The White Coat Investor
Let a professional guide you through the best options to manage your loans – our experienced staff have consulted with more than 1,500 borrowers on over $450M in student loan debt
Save hours of research and stress
Potentially save hundreds to thousands of dollars with your custom student loan plan – our average client saves $191,000 on their student loans
Get answers to all of your student loan questions
Gain clarity about your financial future
Start down the right path towards financial independence
Private refinance your student loans with vetted partners. Enjoy the best rates and highest cash back bonuses.
Receive a Customized Student Loan Plan from one of our in-house experts.
Stay up to date on the latest in student loan repayment plans, success stories, loan forgiveness and much more.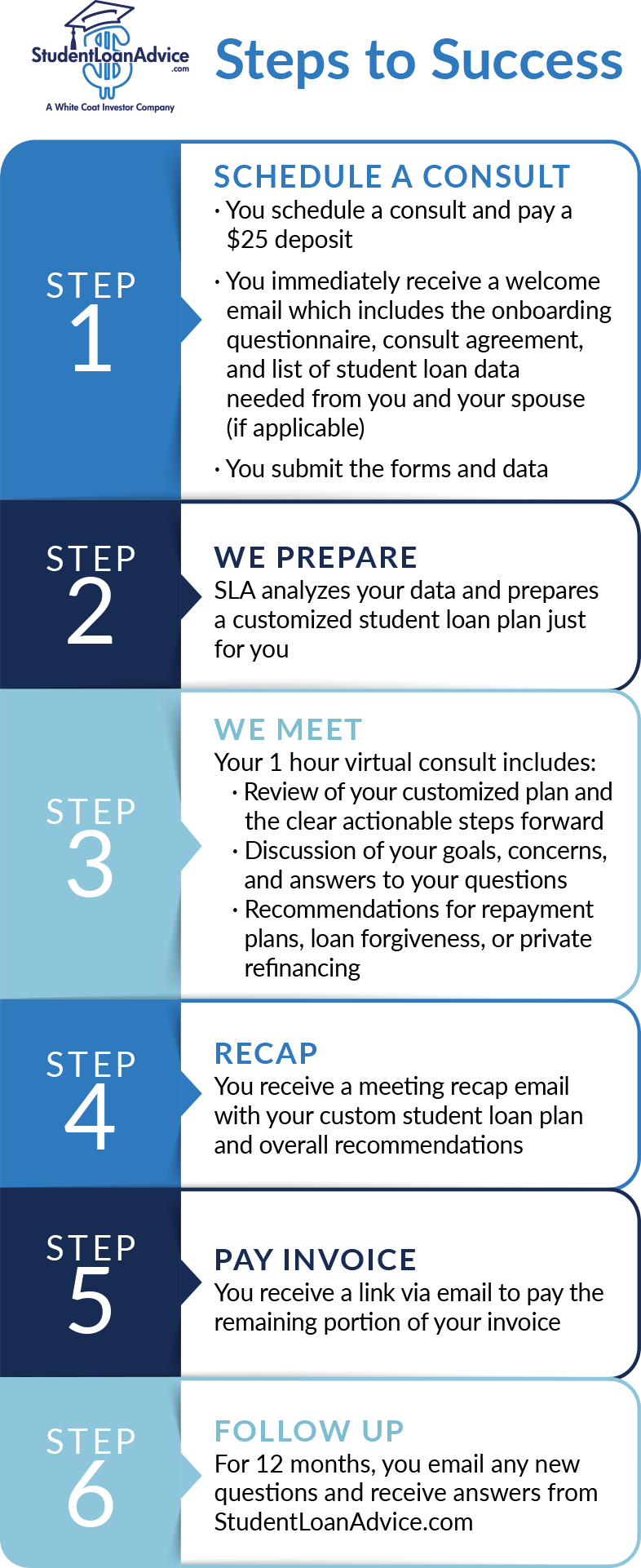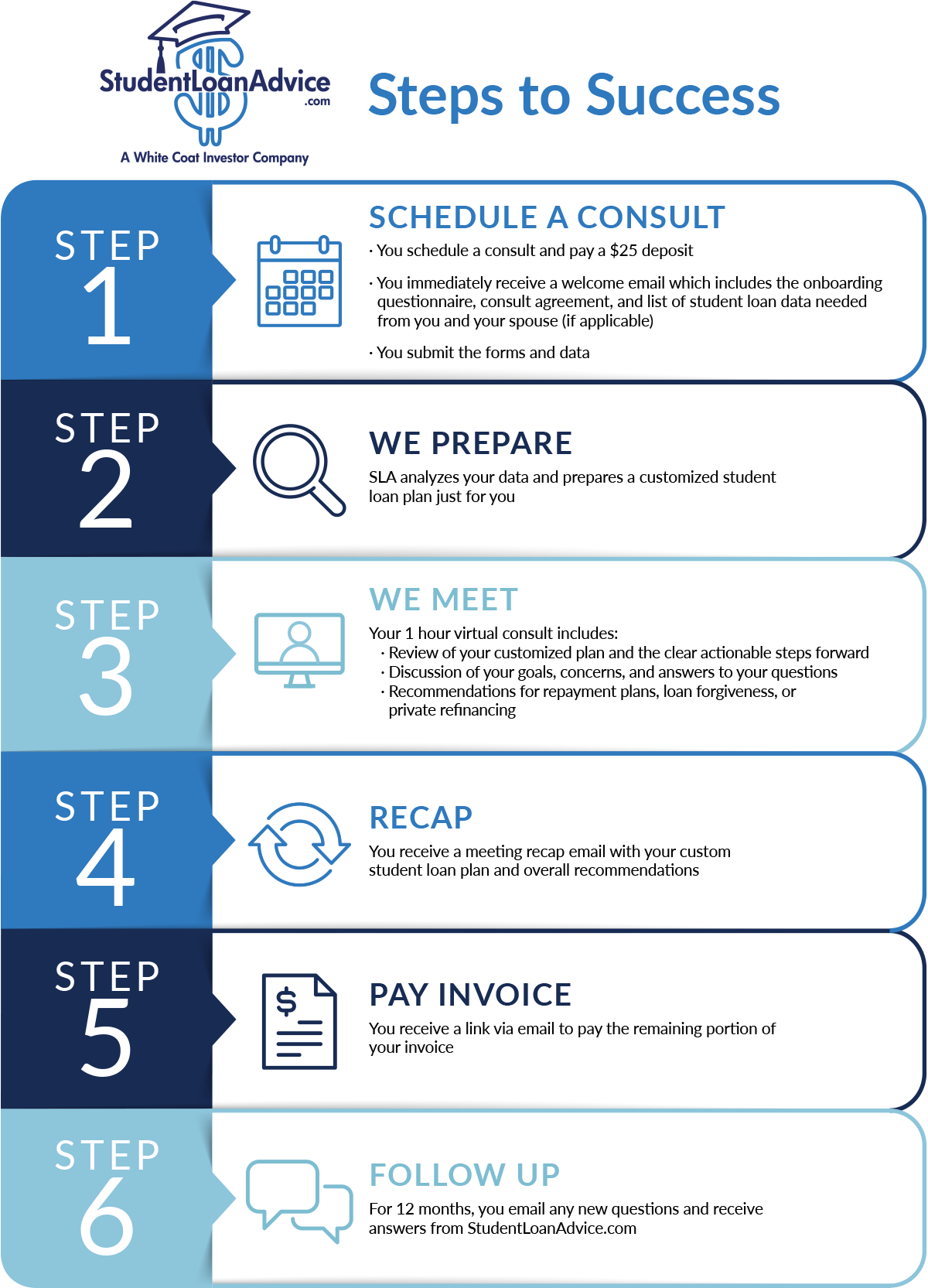 Listen to what our clients are saying!
Andrew really empowered us with all the information. He provided us with all the helpful resources, and we wish we did this sooner. Andrew was very knowledgeable, had an amiable personality and the patience to go over our situation in detail. We found the information so useful and priceless we ended up extending the consult time to two hours.
Andrew is an incredible human being with a wealth of information. If you are at a crossroads with student loans we strongly encourage getting a consult with Student Loan Advice.
Ravneel (Hospitalist) and Rohit (Nephrology), Physician Couple
Andrew was organized, punctual, knowledgeable and extremely helpful–we give him 5 stars! He began by patiently listening to us and thoroughly answered our questions. Our session was educational and replaced our anxieties surrounding current and future debt with reassurance and confidence. Andrew helped us to map out future payment plan options tailored to our individual needs and goals. His response time was excellent and his email recap was extremely useful and easy to understand.
We genuinely felt like every moment of the experience was helpful and we are excited to recommend him to our peers that we know would benefit from his expertise. We highly recommend him! 
James E., MS3
I am so glad to have met with StudentLoanAdvice.com. There were so many takeaways, that it is hard to name just one. It was all helpful. I now have a plan and understand how to proceed. I know when I should start making payments and have an understanding of what my payoff and payment expectations should be in the future. Thank you for giving me direction!
Benjamin N., Family Medicine Resident
Andrew explained in one hour what I have been trying to figure out for a long time. This was far more effective and higher yield than any of the online financial modules my school thought would be helpful. My school should 100% be recommending WCI and Student Loan Advice to its students, and I hope they do so in the future.
I also appreciated Andrew's friendly demeanor and skill in explaining what could be complex topics in a way that my wife and I understood. He is a great teacher, and it was especially helpful for us to see these concepts explained using our own situation and actual loan amounts. It was eye-opening to run the actual numbers and see just how much we can save from one plan to another! Thank you!
Andrew B., Radiology Resident
During the hour-long consultation with Andrew, he provided clarity on my student loans and overall financial plan. He walked me through a comprehensive plan detailing my repayment options, the pros and cons of each and the best plan for my situation. The only thing I wish I could change would be to go back in time with the knowledge I have now and begin income-driven repayment at the start of my residency. I highly recommend Student Loan Advice to anyone who needs help managing their student loans.
Parker H., Orthodontist
We received sound advice on how to pay back our student loans in a sustainable and manaageable manner. Clarity on what payment plan is best for us was our biggest takeaway. Andrew explained the different types of repayment plans, incorporating both of our finances so we can plan as a family. We discussed how saving for retirement and investing alongside paying down our student loans can benefit us in increasing our net worth and reducing our monthly payments. In addition, he is quite knowlegeable about the ever-changing gov't policy as it pertains to student loans.
Andrew provided us with all the information we needed, and we feel as if all we need to do is actually submit payments now. Meeting with him was extremely helpful and valuable. We feel much more confident in paying back our loans. We will definitely be referring our friends to Student Loan Advice.
Gretchen (Psychologist) and Cody (Engineer)
I recently had a call with StudentLoanAdvice.com to talk about my student loans. Andrew prepared a comprehensive student loan plan tailored for my specific situation and goals. We talked in depth about IDR plans, refinancing and the optimal plan for my personal situation.
The hour-long consultation was very valuable and I highly recommend this service.
Brenen O., Oral & Maxillofacial Surgery Resident
Going in, I was a little nervous about spending $559 for the consultation, but I figured that it would at least be worth it to have peace of mind. Coming out of it, I am thanking my lucky stars because it saved us from making a costly mistake that would have cost at least tens of thousands of dollars. We now have a plan and clarity for the future. Thank you!
Lynsey (Engineer) and Trevor (Radiologist)
Andrew's expertise and customer care was excellent. Like a great doctor, he quickly and accurately diagnosed my situation, gave me an excellent plan, and even had back up plans when things did not go well. I am glad I consulted with Andrew. Truth be told, as a DIY type of guy, I was reluctant to pay the consultation fee. I am glad I did not listen to my cheap side because the quality of his service was worth it. The 200x return on investment was an amazing cherry on top.
My story: I wanted to know if I qualified for public student loan forgiveness (PSLF) under the new rules. He reviewed my files and told me that my situation qualified. I needed help navigating the PSLF system. He gave me step by step instructions to get through the application process. Unfortunately, I was rejected by the loan company. Andrew reassured me that I should qualify. He gave me instructions on how to appeal. Ultimately, the loan company conducted another review and agreed that I did qualify for forgiveness, and a six figure burden was off my shoulders.
Anonymous, Orthopedic Surgeon
I scheduled a pre-debt consult with studentloanadvice (SLA) because I was uncertain how I was going to afford medschool and then pay for it once I was done. Andrew helped me understand who to contact in order to receive loans, what the types of loans are and how to minimize expenditures with borrowed money. He chatted about multiple strategies to pay down my loans as well when I graduate.
The clarity for the future was very valuable as I now have a clear picture for how to borrow and my potential pay down plan for when I start training. The value of the consult is far above the cost. I'm planning on connecting with SLA again at the end of school to firm up my repayment plan.
Katie T., MS1
I had a call with Andrew who was extremely knowlegable and helpful with my student loans. I didn't end up making any significant changes on my plan, but I feel great having validated it with an expert!
Andrew was an exceptional counselor! I'm going to recommend him every chance I get
Gavin J., Optometrist
We are big time DIYers and so were reluctant to pay the fee for something we thought we could do on our own. Sure, more reading would have helped but that would have taken a massive amount of time, time we don't have. Andrew was able to give us the clarity for the complex questions we had in a relatively short amount of time while also taking a moment to get to know us and our goals. We now have peace of mind that the decisions we made/will make best fit our financial goals. It was exactly what we were looking for and we are so glad we jumped in and paid for the consult!
Mike D., Emergency Medicine Physician
Are you ready to tackle your student loans?
Join our community of doctors, dentists and high earners. Each month you'll get our FREE newsletter with all the tips and tricks to help you save $$ on your student loans.